Engraved Stones for every occasion: Garden ornaments, addresses,
weddings & anniversarys, bookends, flower vases,
bowls, fountains, birthstones, pet memorials, & monuments.

Price List for 2010



This price list is a guide only.
Always contact me with the information you would like
on a rock and I will give you a no obligation quote.


Size
Single/Multiple
words from list
Custom
Small A 3" - 4"
$20.00
$40.00
Small B 5" - 6"
$30.00
$64.00
Medium A 7" - 8"
$40.00
$80.00
Medium B 9" - 10"
$56.00
$112.00
Large A 11" - 12"
$66.00
$132.00
Large B 13" - 14"
$76.00
$148.00
X Large A 15" - 16"
$106.00
$212.00
Larger by quote

The size of the letters is determined
by the length of the word.
Some fonts are limited by size of the letters.

A word about rock selection. We use a variety of types and colors
of stone and try to match up the stone to what is going on it.
Special requests for colors, types and shapes are
taken but can affect the price and lead time.

Artwork may be added, flowers, ivy borders,
line borders, etc. by special quote.

Lead time is usually 3-4 weeks -- during peak seasons by quote.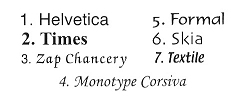 Freight is FOB Forestville, CA